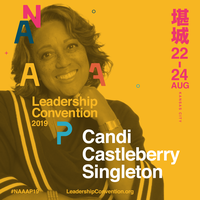 Candi Castleberry Singleton
VP of Diversity Partnership Strategy & Engagement at Twitter and Founder of the award-winning Dignity & Respect Campaign
We're thrilled to announce that Candi Castleberry Singleton will be a speaker at the 2019 Leadership Convention presented by NAAAP.

Candi is a passionate and experienced diversity and inclusion leader who thrives on helping organizations create more inclusive work environments. She recognizes the power of creating more opportunities for different perspectives and diverse voices.

Candi was one of the most well-received speakers at the 2017 Leadership Convention in Chicago, and we're excited to have her back. Don't miss this opportunity to hear Candi speak about her unconventional views on what the future holds for diversity, inclusion, equity, and engagement.
Be sure to regsiter soon! The early bird registration deadline for the 2019 Leadership Convention presented by NAAAP is June 15, 2019. Register before the deadline for convention ticket discounts, and for your chance to win a free round trip ticket within the continental United States or Canada to anywhere United Airlines flies.*
Register here: https://www.leadershipconvention.org/
*Restrictions apply
---