NAAAP Annual ERG Symposium
Registration for this event has passed
An ERG leadership program focusing on the needs of Asian employees
This ERG Leadership program helps Asian ERG leaders and DEI professionals accelerate their programs, connections, and impact with resources, and a community of practitioners.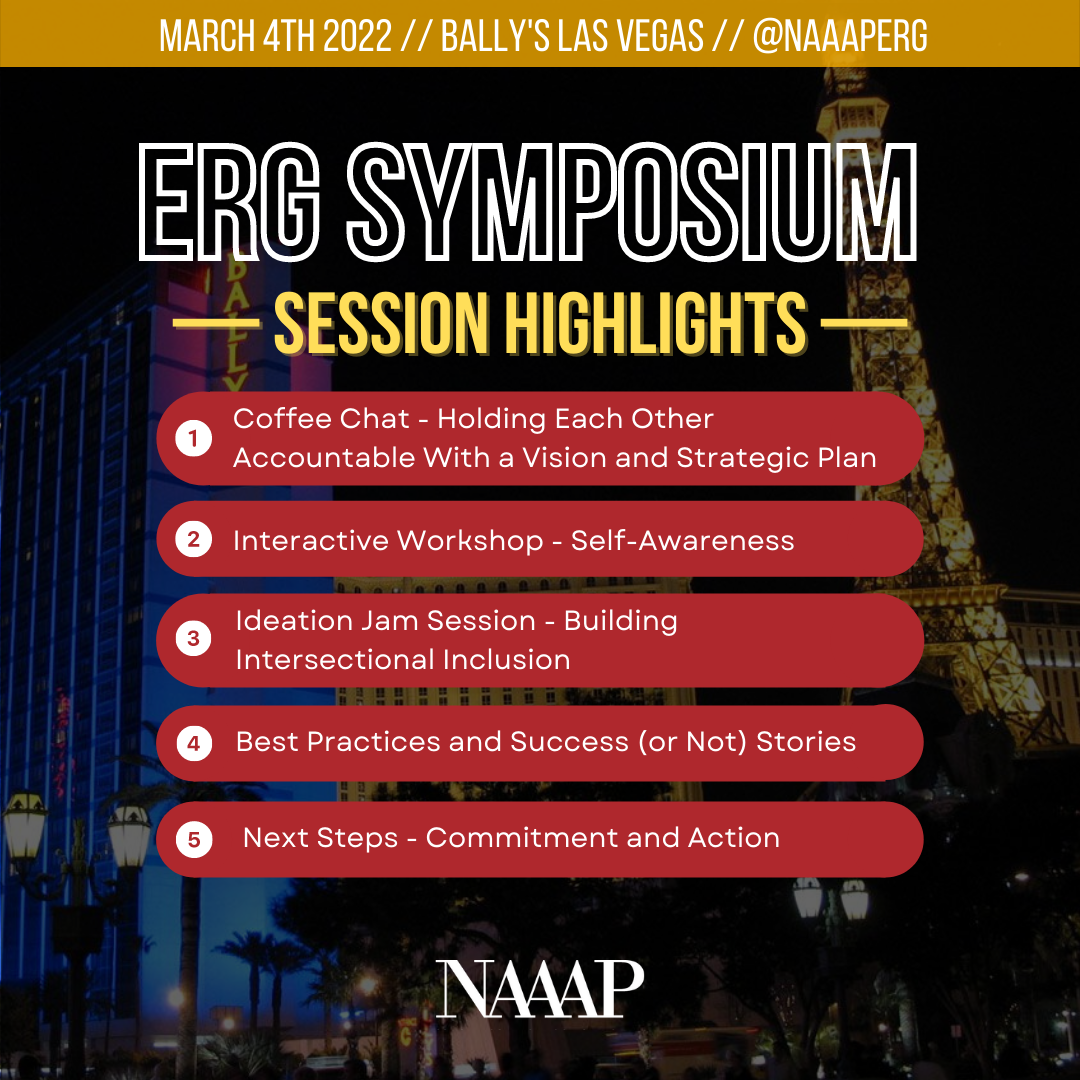 SCHEDULE
8:30am - 8:45am
Welcome and Expectations
Will Cheng, ERG Symposium Director, Global Director of People Analytics, Cargill
Ashley Mack, NAAAP Interim Executive Director
8:45am - 9:45am
Session 1: Coffee Chat :: Holding Each Other Accountable With A Vision and Strategic Plan
Panelists: Sponsors, DEI Leaders
So you're involved with your ERG - great! What's the purpose behind your ERG? What are the goals you're trying to achieve? What are the long term plans for your ERG? Successful ERGs are more than providing food at a lunchtime cultural celebration. What impact can your ERG make at your company and in the community?
9:45am - 10:00am Break
10:00am - 12:00pm
Session 2: Interactive Workshop - Self-Awareness
Presenter: Abraham Gin, DEI and Leadership Coach https://www.abrahamgin.com/
Are you aware of how you show up based on your background - upbringing, cultural heritage, work/school environment? What makes you "you?" How do you leverage the unique person you are to build an inclusive culture as an ERG leader?
12:00pm - 1:00pm Lunch
Keynote: Emmy Kasten, Editor-In-Chief, The List
1:00pm - 2:30pm
Session 3: Ideation Jam Session - Building Intersectional Inclusion
Panelists: NAAAP Board Members
Kim Cummings, SCP, SPHR, Vice president, Human Resources and Talent at Children's Health
DA Abrams, CAE, Immediate Past Chief Diversity and Inclusion Officer for United States Tennis Association (USTA)
Michael Gonzalez, Diversity & Inclusion Consultant, former Leader of Hallmark's Corporate Diversity & Inclusion
NAAAP's Board of Directors include noted professionals in the DEI world. They will discuss various approaches and ideas that Asian ERGs can leverage to create intersectional programming that elevates the voice and acknowledgement of inclusion at your organization.
2:30pm - 2:45pm Break
2:45pm - 3:45pm
Session 4: Best Practices and Success (or Not) Stories
Panelists: Sponsors, DEI Leaders
Hear from companies on different stages of the DEI Matrix - new to DEI, been working on it a few years, well established programs. What worked for them? What didn't? What can we take away from their lessons learned?
3:45pm - 4:45pm
Session 5: Next steps - Commitment and Action
Presenter: Hoang-Anh L. Tran, Chief of Staff - Administrative Group, Asian American BRG Steering Cmte
UMB Financial Corporation https://www.name-coach.com/tranlehoanganh
So what are you going to do with this info? How to put it to work for you and your company? We'll walk through creating an Action Plan and how we are going to hold ourselves and each other accountable for completing that Action Plan. We'll also talk about post-Symposium activities to keep the conversation going.
4:45pm - 5:00pm
Closing Remarks Will Cheng, ERG Symposium Director, Global Director of People Analytics, Cargill
Reception Invitation
Marynka Rojas Gorgen, MPA, NLA Director
5:30pm - 7:30pm
Reception
###
NAAAP San Jose (https://sanjose.naaap.org) cultivates and empowers Silicon Valley's Asian and Pacific Islander (API) leaders through professional development, community service, and networking events featuring thoughtfully curated programming that reflects the Silicon Valley's unique business and cultural needs.

NAAAP is a non-profit organization that provides APIs with resources that will advance their careers and help them become great leaders and valuable employees. Currently, there are NAAAP chapters in major cities across the United States, Canada, and China.

Please contact us at [email protected] today to learn how you can develop new business skills and make new contacts. We Build Leaders!