API Heritage Month: A Conversation about Toxic Invisibility
This is a NAAAP member virtual event and all are welcome to join.
Join us this May the 4th!
In celebration of API Heritage Month and as part of our Be F.I.T. series we are hosting a virtual workshop

A Conversation about Toxic

Invisibility

with

Ryan Takemiya.
RSVP for this important and informative virtual event now.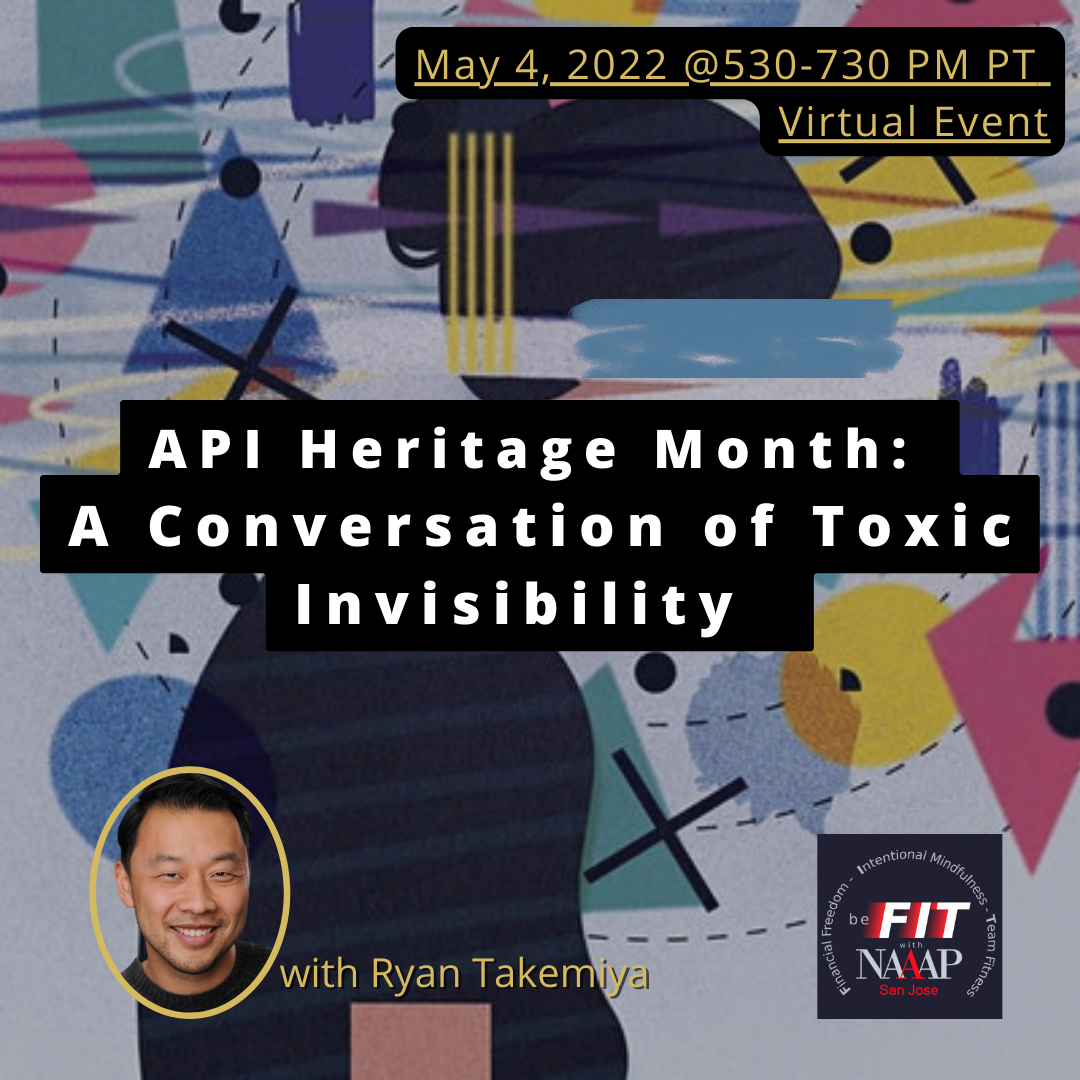 About the event:
Asian Americans are rendered invisible by external forces like racism and white supremacy, but we also render ourselves invisible through internal forces like guilt, shame, self-judgment, and more. These two forces combine to create what Ryan Takemiya calls "Toxic Invisibility".
In this workshop we'll share the myriad of ways we find ourselves rendered invisible in daily life. We'll learn about the historical roots of the external forces, how they persist, and how to effectively combat them. We'll also learn about the neuroscience behind psychological invisibility, and how to regulate your emotions when confronted with challenging situations. Lastly, we'll use vocal/storytelling exercises that will help you own your identity, speak up, and speak out.
About the Speaker:
Ryan Takemiya is a community organizer, speaker, writer, and storyteller based in the San Francisco Bay Area. He is the founder of Rama (www.ramacommunity.com), a creative community dedicated to promoting artistry and expression among Asian Americans, and also of Talk Story (www.facebook.com/talkstoryoakland), a monthly storytelling open-mic series. Ryan leads workshops on Asian American culture and the power of storytelling, to help people find their voice and use it to challenge structures of power.

More speaker info at his website and follow him on Facebook Instagram LinkedIn
###
NAAAP San Jose (https://sanjose.naaap.org) cultivates and empowers Silicon Valley's Asian and Pacific Islander (API) leaders through professional development, community service, and networking events featuring thoughtfully curated programming that reflects the Silicon Valley's unique business and cultural needs.

NAAAP is a non-profit organization that provides APIs with resources that will advance their careers and help them become great leaders and valuable employees. Currently, there are NAAAP chapters in major cities across the United States, Canada, and China.

Please contact us at [email protected] today to learn how you can develop new business skills and make new contacts. We Build Leaders!