Postponed: Entrepreneur Series: Boba & Beauty, A Fireside Chat
Update: Due to the current public health situation, this event will be rescheduled to a future date.
Crystal Lee will be leading a fireside chat with Josie Tiffany Li, Imagine Talks 2020 speaker, and Andrew Chau, Co-Founder and CEO of Boba Guys. Hear about their entrepreneurship stories, how they got started, what worked and what didn't, and where they are going from here. Also get the chance to network with like minded individuals and make connections, both social and professional. Light refreshments will be served.
Bios:
Crystal Lee is a TV host and producer based in San Francisco. Trained in classical ballet from a young age, she became Miss California and eventually placed 1st Runner Up to Miss America 2014. She graduated from Stanford University with a BA in Human Biology and MA in Media Studies in 2013. After working at Google and Dropbox, she co-founded www.lifesite.co, a cloud-based safe deposit box. When she's not filming This is SF which airs on KPIX/CBS, she hosts Beyond Blockchain, a video interview series profiling pioneers in cryptocurrency, and hosts the home games for the Golden State Warriors. Follow her on Instagram @crystalclues
Josie Tiffany Li was born in San Francisco, California, Josie grew up in an environment that straddled both cultures and more so in the underground world of Chinatown. Being a child of an immigrant family, she had to learn how to make sense of the "Chinese playground" and create opportunities on her own. It wasn't until the death of her father that Josie turned over a new leaf and began to focus more on her professional journey of entrepreneurship and founded her own brand of lash and spa treatments. Her legacy now is to help other young women find their own financial stability through entrepreneurship. She is the owner of La Boutique Salon and crowned title Miss Asian San Francisco 2019. She was also one of the speakers at Imagine Talks 2020.
Andrew Chau is co-founder and CEO of Boba Guys and Tea People USA, a Inc. Magazine 500 award recipient. He has been featured as a top emerging business leader on CNN, New York Times, Wall Street Journal, Vogue, and NPR. Prior to a career in Consumer Product Goods and corporate marketing, Andrew started and exited his first startup in 2011. In his free time, he loves traveling and is a freelance writer and an angel investor for consumer-driven businesses. His first book with Penguin Random House comes out April 2020. He has his undergraduate and graduate degrees from UC Berkeley. He and his wife are based in San Francisco, CA.
###
NAAAP San Jose (https://sanjose.naaap.org) cultivates and empowers Silicon Valley's Asian and Pacific Islander (API) leaders through professional development, community service, and networking events featuring thoughtfully curated programming that reflects the Silicon Valley's unique business and cultural needs.

NAAAP is a non-profit organization that provides APIs with resources that will advance their careers and help them become great leaders and valuable employees. Currently, there are NAAAP chapters in major cities across the United States, Canada, and China.

Please contact us at hellosanjose@naaap.org today to learn how you can develop new business skills and make new contacts. We Build Leaders!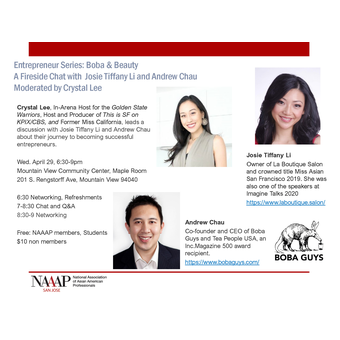 Mountain View Community Center Maple Room 201 S Rengstorff Ave, Mountain View, CA 94040, USA