Thriving with Good Nutrition and Emotional Well Being During A Pandemic
Stuck in the coronavirus Shelter in Place doldrums? Feeling stressed and finding yourself snacking more than ever? Mental and physical health are important and staying healthy is not easy for most people especially during a time like this.
Discussion topics from a nutrition standpoint include: Diabetes, stress eating, how to avoid overeating, maintaining good health through hydration, fitness and meditation. From a mental health standpoint, topics include: mindfulness, identifying life stressors, self-awareness, positive psychology and ways of coping.
Charlene Wang is an MS RD and the Founder and Practicing Integrative Dietitian of Charlene Wang Wellness. She is The Ingredient Queen and Integrative Registered Dietitian Nutritionist with a whole foods and eastern approach towards healing. Charlene works one on one with patients at her practice and virtually, gives community and corporate nutrition talks, writes for Doctors Quarterly magazine and has been featured on local news and radio shows. She holds professional certifications in Applied Kinesiology, Alternative Nutrition, Holistic Health Coaching and the Healing Touch. https://charlenewangwellness.com/
Asia Hilario is a crisis counselor for CrisisTextline, and mental health and wellness blogger. She was awarded the 2019 Woman of the Year Award by Women on the Rise (a global organization that recognizes women for their efforts in empowering women in their community). She also has done Philanthropy work for Charity: The Water and The American Foundation for Suicide Prevention. Through her lifestyle blog, Isla Honey, she works towards fulfilling her life's mission by helping and reaching as many women as she can, because as a firm believer that when a woman feels appreciated, loved, understood, empowered – she in return, will help others elevate. https://islahoney.com/
###
NAAAP San Jose (https://sanjose.naaap.org) cultivates and empowers Silicon Valley's Asian and Pacific Islander (API) leaders through professional development, community service, and networking events featuring thoughtfully curated programming that reflects the Silicon Valley's unique business and cultural needs.

NAAAP is a non-profit organization that provides APIs with resources that will advance their careers and help them become great leaders and valuable employees. Currently, there are NAAAP chapters in major cities across the United States, Canada, and China.

Please contact us at hellosanjose@naaap.org today to learn how you can develop new business skills and make new contacts. We Build Leaders!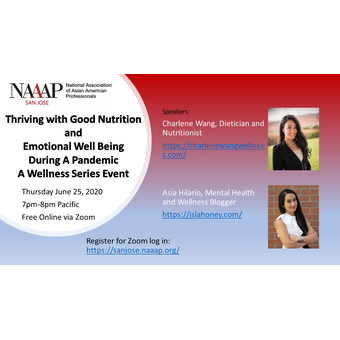 Online - Register for link