Virtual Cooking Class with Aisle Mine: Empanadas
This is a NAAAP member virtual event and all are welcome to join within the same household- This is a very family friendly Saturday event!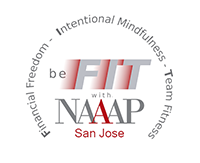 Presented by Be Fit, NAAAP San Jose's Wellness Program
Join us for our first Virtual Cooking class!
We are doing two virtual cooking classes (April 17 and May 1), each with different: recipes, chefs and tickets (price listed is for one class), but all in the same house hold are welcome! Come cook with us!
Bonus: Aisle Mine is donating 5% of the class cost to the Asian Mental Health Collective.

https://www.asianmhc.org/
About the event:
Aisle Mine provides a virtual cooking class with a social impact twist. We're on a mission to bring people together around the stove in a brave way that naturally facilitates conversations about diversity, equity, and inclusion. And we'd love to invite you to the dinner table.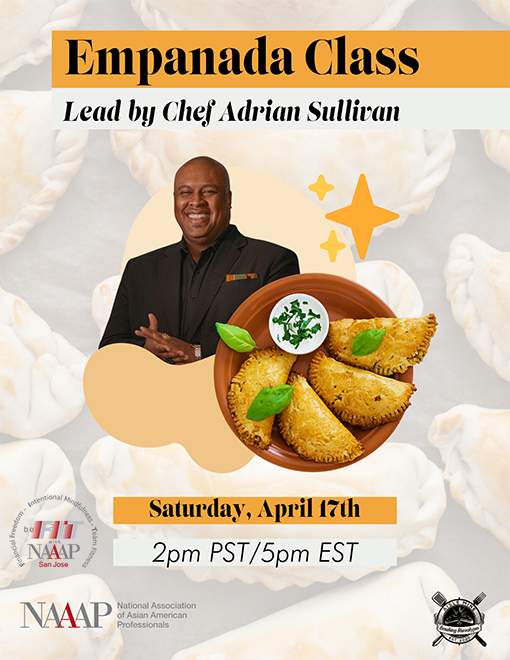 About the Aisle Mine staff:
Adrian Sullivan- Virtual Chef for the day
As a diversity champion who has been cooking from a young age, I've learned the ability food has to bring people together and explore new cultures. He believes that food, like any art form, has the ability to open minds, spark exchanges of ideas, and build bonds. That's what his food is all about, a little of this from part of my culture, and a little of that from another part, with pieces picked up along the way from relationships. A good recipe does more than provide a meal. It can tell you more about a person, a place, a legacy than words ever will, if you let it." - Adrian Sullivan
For these ideals, Adrian has been recognized as a 2020 Next Up Columbus Award recipient for his work in diversity and inclusion through food. As a food blogger, Chef and recipe creator Adrian has used his platform (www.sulliskitchen.com) to create recipes that spark variation and new ideas. Adrian also leverages his platform to highlight the diverse food scene in Columbus Ohio and beyond. "From the age of 11, my mother instilled in me the value of cooking from the heart. From his kitchen to yours, we'll build something incredible and unique based on the simple things around us all the time. Let's cook!"
Kiana Estevez- Aisle Mine founder
Kiana is an Afro-Latina entrepreneur who is determined to create inclusive and empathetic solutions through food experiences. She created Aisle Mine, a social food movement, empowering people to step outside of their comfort zones, and equalizing cultural differences through community experience.
It's more than a cooking class, it's a life skills class which offers the kind of education a human being needs. We help guests reclaim mindfulness into their day, so they can lean towards culture in an accessible way with even more people and perspective at the table.
Kiana is building a new standard as an equitable profit sharing ecosystem for foodie and eaters.
Interested in hosting your own private virtual cooking event with Aisle Mine?
Contact them directly by emailing: [email protected]
###
NAAAP San Jose (https://sanjose.naaap.org) cultivates and empowers Silicon Valley's Asian and Pacific Islander (API) leaders through professional development, community service, and networking events featuring thoughtfully curated programming that reflects the Silicon Valley's unique business and cultural needs.

NAAAP is a non-profit organization that provides APIs with resources that will advance their careers and help them become great leaders and valuable employees. Currently, there are NAAAP chapters in major cities across the United States, Canada, and China.

Please contact us at [email protected] today to learn how you can develop new business skills and make new contacts. We Build Leaders!