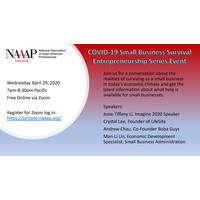 Thank you for taking the time to attend COVID-19 Small Business Survival: NAAAP San Jose Entrepreneurship Series Event.
A compilation of the resources mentioned throughout the event is attached, as well as the slide deck. We have also uploaded the video to our YouTube channel, link https://www.youtube.com/channel/UC4mmxg7U0VfDqHdHRMSP1EA.
We encourage you to become a member so we can continue to bring you interesting, engaging, and relevant programming to assist you in realizing your career goals. As a "thank you" we are currently offering a discounted membership that is 25% off our usual price. Please go to https://sanjose.naaap.org/ to take advantage of this special price.
Also check out our events for Asian Pacific American Heritage Month on our Facebook page https://www.facebook.com/naaapsanjose/ .
---