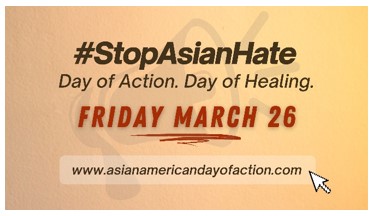 DAY OF HEALING
As a community we are still in pain. Day after day we hear about atrocities inflicted upon our fellow Asians Americans facing verbal assaults, physical attacks, and threats to their lives. Our most vulnerable people are being targeted: elders in precarious living situations, workers in low-wage jobs and women. And those are only the incidents that have been reported. How many more of our Asian American community suffered alone in silence?

Honor the victims of anti-Asian violence and push back against racism, sexism, and anti-Asian violence.
DAY OF ACTION
Show your support through today's Virtual Day of Action: pledge to support the Asian American community to #StandWithAsians and #StopAsianHate. Last week's killings in Georgia were a wake-up call for so many to the reality that Asian Americans have been facing for the past year. White supremacy ends lives and we must all fight to end it. On this Virtual Day of Action, uplift the Asian American community by sharing your commitment to #StopAsianHate. Folks are being targeted for the language they speak, their accent, where they work, their culture — let's end the violence together. So what can you do?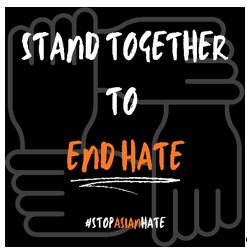 ---